Grassland Set-Aside Stewardship Program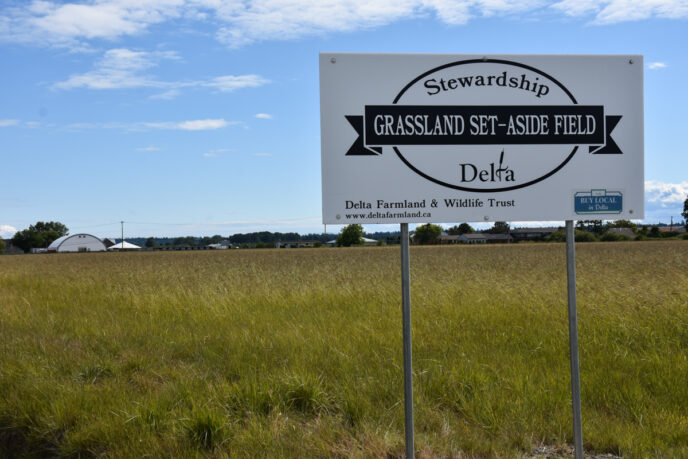 Program Highlights
Approximately 540 acres (219 ha) of set-asides are enrolled annually


A total of 14,045 acres (5,684 ha) of set-asides have been established and maintained
$4 million dollars in cost-share payments have been disbursed to local farmers to support this sustainable practice
The Grassland Set-aside Stewardship Program promotes the planting of grassland habitat on agricultural land to improve soil productivity and provide habitat for wildlife. Grassland set-asides are fields planted with grasses and broad-leaved plants that are left to rest for up to 6 years. These grassland fields resemble the historical tall-grass habitats of the estuary prior to it being dyked and drained for agriculture in the late 1800s.
The Grassland Set-aside Program offers a $400/acre cost-share to farmers every year a field is enrolled. The cost-share assists with the challenges and financial constraints that local farmers face when temporarily removing farmland from production. Farmers commonly enroll in the Grassland Set-aside Program to restore degraded land, transition conventional fields into organic production or diversify options for crop rotations.
Grassland set-asides benefit farming and the environment by:
Providing habitat for wildlife

including grassland raptors, wading birds, songbirds, small mammals, and pollinating insects

Supporting high densities of the Townsend's Vole

, a small native mammal, that is prey for a variety of raptors and wading birds

Providing roosting habitat for ground-perching raptors, such as the Northern Harrier and Short-eared Owl

Improving soil fertility

including improved soil structure, reduced soil compaction, increased soil organic matter, and improved nutrient cycling
Research we've completed to assess the benefits of grassland set-asides can be found under our research library.
Soil of a potato field (left) versus a grassland set-aside (right)